---
Sunday Street Concerts at LIM in The Gillespie Room
We are pleased to announce that our concerts will now take place in the beautiful Gillespie Room at the Long Island Museum, Route 25A in Stony Brook Village. We'll be able to accommodate one hundred people and will have wine, beer and cider available at the shows.
BUY TICKETS FOR UPCOMING SHOWS HERE!
---
UPCOMING 2017 – 2018 SEASON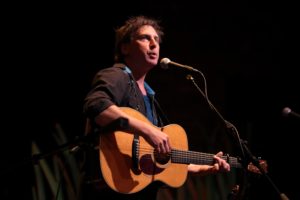 Joe Crookston
Sunday, September 24th, 5 P.M.
Making his debut appearance in our series is this much-acclaimed songwriter, guitarist, fiddler, pianist and painter whose live shows are rapidly becoming legendary as word travels through the acoustic music world. Joe's live performances are multi-media celebrations of art and possibility with looped fiddle, video, slide guitar and songs. He's a bard in the modern world plumbing for lyrical gold like a social archeologist. His story songs are universal, his slide playing infectious, and on stage he's funny as hell one moment and transcendent the next.
His most recent album is Georgia I'm Here and all of his previous albums have received critical acclaim for both his brilliant original songs as well as his inspired covers of diverse songs like Supertramps's "The Logical Song" and Mary Gauthier's "Mercy Now." His 2008 recording, Able Baker Charlie & Dog, was awarded Album of the Year by Folk Alliance International where he was named 2016 Artist-In-Residence.
Joe is also an accomplished artist and his appearance in The Sunday Street Series will be accompanied by an exhibition of some of his artwork.
(www.joecrookston.com for more information)
Advance sale at $22 at www.sundaystreet.org through Friday, September 22nd. Tickets at the door, $27.
---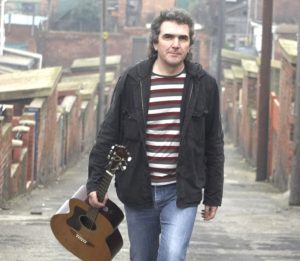 Jez Lowe
acclaimed singer-songwriter from England
Sunday, October 8th, 5 P.M.
Jez Lowe is "the best songwriter to come out of England in a long time," according to Richard Thompson, and that praise is echoed by many others in the know. It has been several years since Jez has played our series so we are delighted to welcome him back.
For the last thirty years, this singer and songwriter has taken his songs of life in his native North East England across the world and has become one of the most hard-working and popular acoustic/folk artists of our day.. His songs often address the social and economic conditions in contemporary British society. He has to his credit sixteen studio albums (both solo and with his group, The Bad Pennies). In 2016, Jez released The Janus Game, an album with his fellow signer-songwriter, Steve Tilston.
Fairport Convention, The Duhks, Cherish The Ladies, The Tannahill Weavers, and many other artists have also recordedJez' songs, thereby expanding his audience. His best-known song, "Back in Durham Jail," has been covered by more than 20 different artists. Themes of his songs include the plight of the coal mining community ("Black Diamonds"), the struggles of the British working class ("Workhouse"), and the impact of war upon society ("Dover, Delaware" and "Bloodstained").
In performance, Jez accompanies himself on guitar, cittern, mandolin and harmonica, captivating audiences with his lyrics and his winning stage personality. ( www.jezlowe.com for more information)
Advance sale at $20 at www.sundaystreet.org through Friday, October 6th. Tickets at the door, $25.
All ages admitted.
---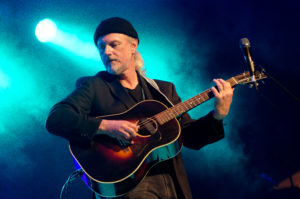 Garnet Rogers
Sunday, November 5th, 3 P.M.
Garnet Rogers has been proclaimed by Sing Out magazine as "the greatest interpreter and vocalist performing on the contemporary folk scene." He set out on the road at age eighteen as a full-time working musician with his brother Stan Rogers, the Canadian folk legend. Establishing himself as a solo artist following his brother's tragic death, Garnet has delivered performances centered on extraordinary songs, his unsurpassed playing on a host of guitars, and his over the top humor and lightning-quick wit.
Add his name to the select list of the giants in the guitar world today and couple that with brilliant songs often centering on people who are not obvious heroes, and you have the makings of an outstanding afternoon of music. He most recent album is Summer's End.
In 2016, Garnet published Night Drive, his memoir of his days of touring in a band with his brother Stan in the late 1970's. It is an unbelievably wild book and a great read, replete with tales that couldn't be made up. Look for Garnet to share some passages from it in his live show. (www.garnetrogers.com)
Advance sale $22 at www.sundaystreet.org through Friday, November 3rd with remaining tickets at the door for $27
---
SPECIAL SHOW with a Sunday Street favorite on SUNDAY, NOVEMBER 26th at 3 P.M.: look for details to be announced on September 24th!
---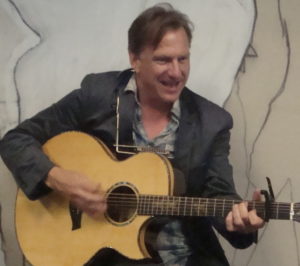 Ellis Paul
Sunday, December 10th, 3 P.M.
The tradition continues: Ellis returns for what will be his 12th annual show for us. He'll help celebrate the holiday season with some new songs, as well as favorites from his recent album, Chasing Beauty, his 2012 holiday album, City of Silver Dreams, and audience requests from his extensive catalogue. Ellis will be making full use of the Steinway concert piano he will have at his disposal. There are always surprises at an Ellis Paul show and you can expect a cover or two of songs from other writers.
From his emergence on the Boston music scene in 1990, Ellis has won a devout following for his well-crafted songs and his passionate, high energy stage presentation and his distinctive voice. As Kristian Bush, of the duo Sugerland has said, "Ellis has a voice that is so powerful you know who it is the second he comes through your radio."
Advance sale at $25 at sundaystreet.org through Friday, December 8th. Tickets at the door are $30 (cash only)
---