---
Sunday Street Concerts at LIM in The Gillespie Room
We are pleased to announce that our concerts will now take place in the beautiful Gillespie Room at the Long Island Museum, Route 25A in Stony Brook Village. We'll be able to accommodate one hundred people and will have wine, beer and cider available at the shows.
BUY TICKETS FOR UPCOMING SHOWS HERE!
---
UPCOMING 2017 – 2018 SEASON 
---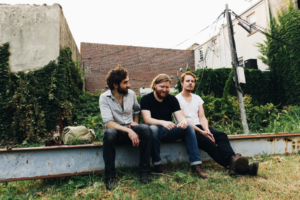 The End of America
Sunday, February 25th, 3 PM
The End of America is a young, exciting band of friends, singers and travelers who blend three-part harmony with rock and Americana. The Philadelphia-based outfit masters a style that resonates with fans of Ryan Adams, CSNY and Dawes. Taking their name from a phrase in On The Road, the landmark novel by Jack Kerouac, this trio has garnered critical praise and a very active fan base. Immediately after their performance at the Fiddle & Folk Festival at Benners farm in September, we decided we had to have them play the Sunday Street Series.
All front men of previous bands, Brendon Thomas, James Downes and Trevor Leonard met on tour in 2005. They went on to form a trio that highlights their vocal chemistry and captures the raw honesty of their performances. TEOA recently released their acclaimed debut LP (self-titled), a follow-up to their previous EPs, Shakey and Steep Bay. With the album released, the band is gearing up for a full year of touring. Anyone who has seen TEOA can attest to their powerful harmonies and stage presence. Plan to hear great original songs as well as carefully-chosen covers of songs showcasing their powerful harmonies.
Advance sale tickets are $18 at www.sundaystreet.org through Friday February 23rd, with tickets at the door on the day of the show for $23 (cash only)
---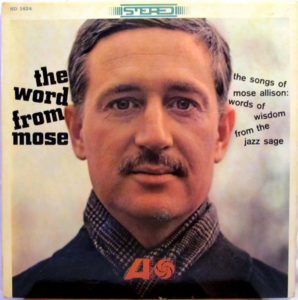 The Word From Mose: A celebration of the music of Mose Allison
Saturday, March 24th at 7 P.M.
With Pete Kennedy, Abbie Gardner, Jack Licitra and Pat Wictor
The Sunday Street Series continues its tradition of celebrating the work of important songwriters and musicians by honoring the music of Long Island Music Hall of Fame Inductee (and long time Smithtown resident), American jazz and blues pianist, singer and songwriter Mose Allison.
Mose Allison has been described as "one of the finest songwriters in 20th century blues" with an influence on a host of musicians including Pete Townshend, John Mayall, Leon Russell, Bonnie Raitt and Van Morrison, all of them having recorded
versions of his songs, with "Young Man Blues," "Your Mind Is On Vacation" and "Everybody's Crying Mercy, " being among his better know ones.
The evening will begin with the screening of a short BBC documentary on Mose Allison, "Ever Since The World Ended," in its US premiere. Look for Van Morrison, Elvis Costello, Bonnie Raitt, Loudon Wainwright III, to appear in this film along with
great footage of Mose Allison in performance.
Following the screening, Pete Kennedy, Abbie Gardner, Jack Licitra and Pat Wictor will share their interpretations of songs written by Mose Allison.
Pete Kennedy, a much-in-demand guitarist is also known for his work with his wife Maura as the folk/rock duo, The Kennedys. Abbie Gardner, an acclaimed dobro player, has toured for several years as part of the trio Red Molly and also performs as a solo artist, while Pat Wictor, a guitarist and dobro player, is known for his solo work and his touring with the vocal trio Brother Sun. Jack Licitra is an acclaimed keyboard player and guitarist, with his group, Jack's Waterfall, and was a member of the seminal Waterstreet Blues Band.
Advance sale tickets are $25 through Friday, March 23rd with tickets at the door, if available, for $30 (cash only).
---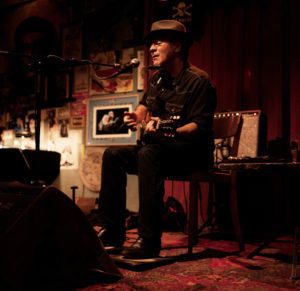 Ray Bonneville, Bluesman
Sunday, April 15th, 5 P.M.
With a style that sometimes draws comparisons to JJ Cale and Daniel Lanois, this blues-influenced, New Orleans-inspired "song and groove man" returns to play our series.
Ray Bonneville holds dual US and Canadian citizenship. He was born in Quebec, moved to Boston when he was twelve, served in Vietnam as a Marine, earned a pilot's license, and moved to Alaska, then Seattle, and Paris and then New Orleans which is where he says he found his musical groove. Ray's songs involve gritty narratives inspired by a lifetime of hard-won knowledge set against his soulful guitar and harmonica playing.
Ray has earned many accolades, including a Juno (the Canadian equivalent of a Grammy). His post-Katrina ode, "I Am the Big Easy" received the International Folk Alliance's 2009 Song of the Year Award, and in 2012 Bonneville won the solo/duet category in the Blues Foundation's International Blues Challenge. His songs have been recorded by many other artists, among them Slaid Cleaves and Ellis Paul.
Look for songs from a new album as well as fan favorites from his previous six releases. (www.raybonneville.com)
Advance sale tickets are $20 through Friday, April 13th with tickets at the door $25 (cash only).
---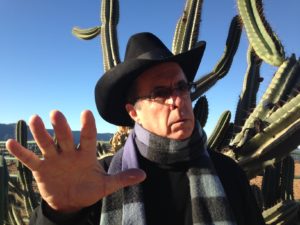 Tom Russell
Sunday, April 29th at 5 P.M.
Tom Russell, one of America's great songwriters, returns to our area with a wealth of new songs from "Folk Hotel," an album cited by many radio programmers as one of 2016's best releases. Last year also saw Tom releasing "Play One More," an album paying homage to the songs of Ian and Sylvia.
The previous year saw the release of Tom 's epic folk opera, The Rose of Roscrae, to widespread critical acclaim.
By themselves, these recordings would be most impressive yet they add to a rich collection close to thirty albums making Tom Russell one of our most important and prolific songwriters. Add to this the fact that he is a riveting, legendary performer in his shows. This is a rare Long island appearance by
Tom and we are delighted that he has agreed to play our series.
The Boston Globe has called Tom "the most powerful voice on the contemporary folk circuit." Mike Regenstreif of the Montreal Gazette says Tom is "the best songwriter of my generation," who "raises and sets the bar for contemporary singer-songwriters." David Letterman featured him many times on Late Night, and Tom's album releases have been regarded as one masterpiece after another.
Advance sale tickets are $35 through Friday, April 27th with tickets at the door $40 (cash only).
Advance sale is highly recommended since Tom has sold out all of his previous appearances for us.
---
Abbie Gardner & Jesse Terry

Sunday, May 6th, 5 P.M.
Two great musicians who are good friends and who have recorded together. They share a co-bill in The Sunday Street Series at The Long Island Museum and we'll celebrate their respective release of new albums in 2018.
Abbie Gardner is a fiery dobro player who is a founding member of the Americana trio, Red Molly. She is also an acclaimed songwriter whose tales of love and loss, both gritty and sweet, are propelled by her impeccable slide guitar playing. She is riding a wave of praise for a brand new CD, "Wishes on a Neon Sign," featuring 12 original songs and co-writes with Chris Stapleton and David Olney. While she channels Lucinda Williams and Bonnie Raitt, she remains pure Abbie. (www.abbiegardner.com)
Jesse Terry makes his debut in our series as he shares songs from his new stripped-down "Natural" album (with contributions from Dar Williams, Liz Longley and others) as well as his full-band album. "Stargazer" released in 2017. A native of Stonington Connecticut, Jesse's songwriting, with themes of travel and homecoming, and sorrow and redemption, mirrors an amalgam of influences from Abbey Road to Nashville to Laurel Canyon. "A force to be reckoned with," says WFUV's John Platt. (www.jesseterrymusic.com)
Tickets go on sale on February 15th.
Advance sale is $22 through Friday, May 4th, with tickets at the door $27
---

Bob Dylan's 77th Birthday Celebration
with The Kennedys, Rod MacDonald, Russ Seeger and others

Sunday, May 20th, 7 P.M.
It's also the 35th anniversary of the release of Dylan's Infidels album and the 40th anniversary of Street Legal's release , so you can expect to hear some songs from them but we'll also roam through the entire Dylan catalogue, right up to his recent albums, and, as always, throw in some obscure Dylan stuff as well.
Anchoring the evening's celebration will be Pete and Maura Kennedy, who return for their tenth Dylan Birthday celebration at the Cafe. Guitars, sitars and even ukuleles come into play when The Kennedys "do Dylan." (www.kennedysmusic.com)
Rod MacDonald, one of America's finest singer-songwriters and an acknowledged master at interpreting Dylan, returns for another Dylanfest at the Cafe. Rod and his band Big Brass Bed have recently recorded a third album of Dylan songs. (www.rodmacdonald.net).
Russ Seeger, of Levon Helm's Last Hombres, interprets lesser-known Dylan songs and adds great fiddle and guitar work to other Dylan classics in his ninth appearance at a Cafe Bob Dylan Birthday celebration. (www.myspace.com/russseegermusic).
Also in the band: Brian Kachejian on keyboards, Steve Kaplan on bass and Tom Ryan (of the Last Hombres) on drums. And who knows who else might appear?
Tickets are $35 and limited to 100 seats and will be available beginning on February 15th.